EURABUS is the e-bus specialist from Berlin and the only European company to specialize exclusively in the manufacture of sustainable electric buses.

Driven By Electric Power
E-city buses

Be it 12 m, 18 m or custom sizes – our low-noise and sustainable e-city buses ensure that the future of public transport starts today. Fully operational throughout the day, straightforward and cost-efficient charging at night.
E-coaches

This is what modern passenger transport looks like: With a range of currently 600 km, our technology is just as ideal for eco-friendly e-coaches or e-intercity buses. Reliable – even over long and longer distances.
E-special buses

Environmentally friendly and near noiseless travel comfort at the airport, at conferences or on company premises, and last, but not least: school buses – e-special buses are an addional part of our portfolio.
EURABUS 3.0
All-electric. Sustainable. Modular.
The lightweight aluminum design is borrowed from aircraft construction. The innovative modular system is our brainchild. Each EURABUS is lighter than our competitors' vehicles, and thanks to its modular system, is quick and easy to assemble – wherever that may be.
The EURABUS 3.0 has a range of up to 600 km, with the lowest life cycle costs compared to competitors and diesel buses. Its powerful battery eliminates the need for a complex charging infrastructure. This means that operators benefit from low electricity rates as a result of night-time charging.


+ 100 % emission-free, safe and low-noise mobility with a range of up to 650 km
An intelligent
service network
Once delivered, we offer customized full-service packages for maintenance and repair, such as our IP-based maintenance service. This predictive maintenance enables us to maximize the life of our buses.
The bus automatically reports weak points before they can cause relevant damage, eliminating downtime in the auto shop.
Sustainability and safety
go hand in hand.
Our e-buses are more efficient, use less resources, and they are safe. This is why all our vehicles have EU certification, usually issued by German partners such as the Technical Inspection Association, TÜV.


German TÜV EU certified.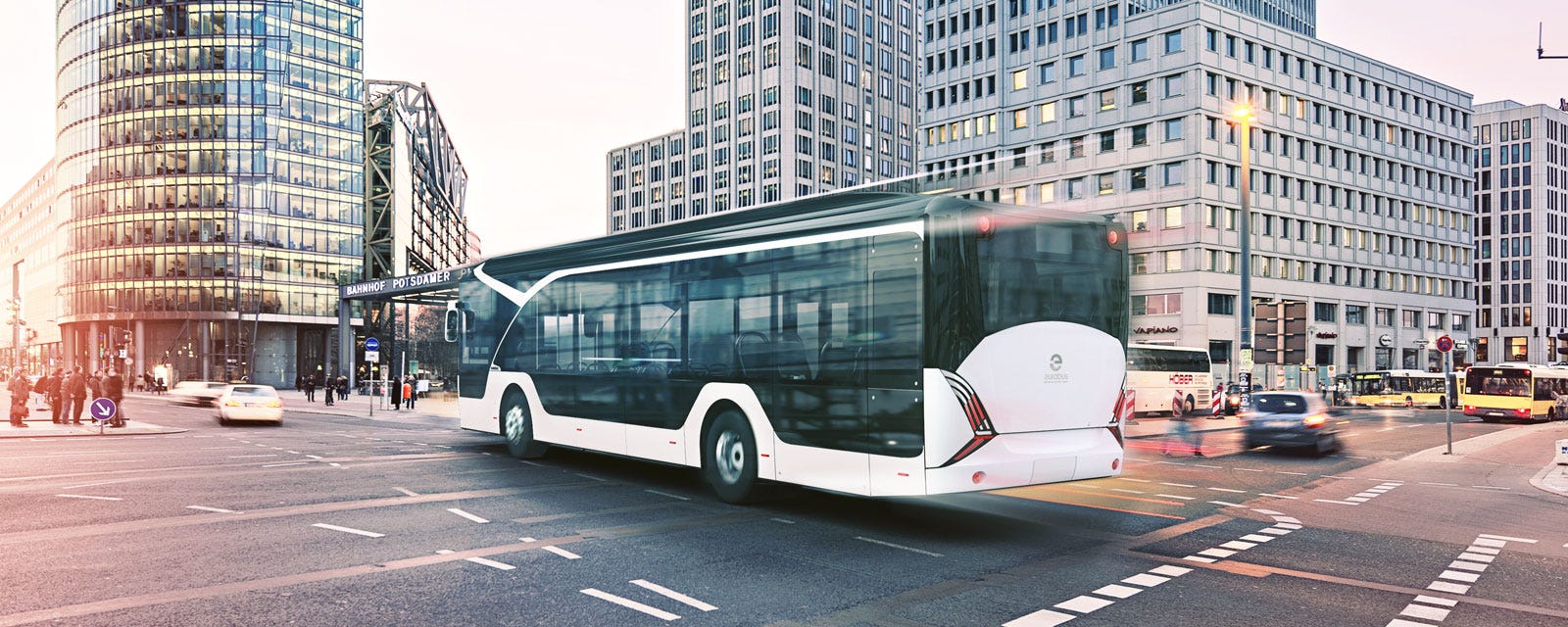 EURABUS 3.0
Zero Emission Technology
Smart technology for a successful transformation to sustainable transport
EURABUS.
Driven by electric power.
Our team at EURABUS will be available to advise and assist you through the design and planning process, from the fleet requirement analysis through to the charging infrastructure. In addition, we support you in the implementation and operation.
Content from Google Maps can't be displayed due to your current cookie settings. To show this content, please click "Consent & Show" to confirm that necessary data will be transferred to Google Maps to enable this service. Further information can be found in our Privacy Policy. Changed your mind? You can revoke your consent at any time via your cookie settings.
Consent & Show
Address
EURABUS
Rapsweg 23
Bezirk Marzahn-Hellersdorf
Berlin 12683
Deutschland